Other Motorcycle Pictures
---
Here's my 1993 Kawasaki Concours (ZG1000) when it was young getting acquainted with a hot little Italian while I stop for lunch in Los Gatos. It didn't work out! She had too many wheels!

The Concours is an American-made bike, built in Lincoln, Nebraska. Kawasaki was the first Japanese company to set up a US factory to manufacture motor vehicles, in 1975. The Kawasaki 1000 Police Special, Concours, and ZX-11 motorcycles have been built there. The Police Special model was designed under contract by an American, Dan Gurney, of automobile racing fame.

Kawasaki has manufactured the Concours model since 1986 and introduced only a few minor changes to the basic design. It is priced favorably and one of the best values available in a heavyweight sport-touring motorcycle -- a little top heavy, so be careful when stopped and at low speeds, but very fast and handles very well at highway speeds -- and tall, so it's best to have long legs if you plan to ride one.

My Concours evolved over the eight years I owned it with addition of several accessories. The factory windscreen generates a lot of turbulence; I replaced mine with the aftermarket screen sold by Rifle. After that the airstream was smooth and comfortable. The factory saddle was bad. I first replaced it with an off-the-shelf Corbin sport saddle; but that was too hard for day-long riding comfort. Finally, I had a custom seat built to my specification by Corbin with lots of extra padding, less forward slope, and a better break for the passenger. The Rifle windscreen and the Corbin custom saddle turned the Concours into a very comfortable long-distance touring machine, suitable for 10-12 hour riding days with great comfort. I also eventually added a Givi tail box for extra luggage capacity. Givi provides a custom mount designed specifically to replace the small stock tail rack on the Concours, and the box is available equipped with a bright LED stoplight for added safety. In addition, I added a set of halogen driving lights to the front, for better daytime visibility, on a custom mounting bar I had made by a machinist friend.
I sold that Concours in 2001 with 33,000 miles on the odometer after purchasing the 2001 BMW K1200LT (below). As much as I like the BMW, I sometimes miss the Concours.
---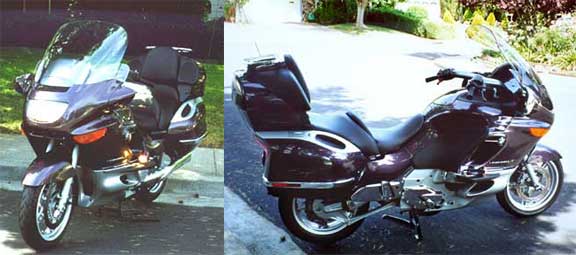 My K1200LT has travelled almost 10,000 miles now, largely by virtue of a 7,000 mile trip in July/August 2001. It is gradually being upgraded: custom driving lights in front for improved daytime visibility and additional red marker lights on the back for nighttime visibility, options that should be offered by BMW but are not, have already been added. The Metzeller ME880 Marathon tires that were fitted as standard equipment on my bike are wearing well and still have plenty of tread left.
As I discovered when speaking with the dealer in Vancouver, BC, during a service stop, a more comfortable seat is included as standard equipment on the top-of-the-line model as sold in Canada. This seat has been deleted by BMW USA, alledgedly due to complaints from purchasers about excessive seat height. Available in the US only as an accessory upgrade: "Soft-Touch" seats, $425 for rider only. Ditto for passenger. (I am currently searching for a less expensive alternative.) As I found out during my Summer trip, the stock seats are a little too hard to be totally comfortable for long days -- a significant deficiency in the K1200LT as compared to luxury-touring models from virtually all competitors. (Although the heaters are nice when it gets cold; they just need more padding on top.) I think it would be nice if BMW USA could tell customers about the Soft-Touch seats at time of purchase and perhaps offer them as an option rather than an expensive upgrade. It seems silly to go cheap on this when you are selling a $22,000 motorcycle. For those lucky enough to buy the less expensive Custom or Icon model, the cost difference between the luxury-padded heated seat and the standard heated rider seat when purchased for retrofit is only $50.
The suspension of this bike is excellent and provides superb handling at highway speeds. Power and performance is sufficient to require caution and frequent speedometer checks; it always seems to be going about 20 mph faster than I think.
However, the K1200LT is every bit as top heavy as the Concours, perhaps even moreso, and requires significant care at stops and low speeds to avoid dumping. When it does go over, the hidden tubular crash bars and bumper rails do a good job of catching it and avoiding significant damage. Just be sure to drop it on a flat place, and not too isolated: You'll need one or two friends to help you stand it up again. The high center of gravity, and also, I suspect, an overall first-gear ratio that is higher than that in other touring bikes, makes low-speed maneuvers and inching along in stop-and-go traffic pretty uncomfortable. But it is great on the open road!
Two significant irritants are: (1) The lack of highway pegs and no convenient way to mount them. The fairing is too wide around the rider calf area to make them practical even if you could find a spot to mount them. Consequently, one does not have the luxury of varying the riding position to avoid fatigue that is afforded by competing large touring models such as Harley ElectraGlides and Gold Wings. BMW USA recommends changing the seat height during fuel stops as an alternative, but the single height adjustment does not provide much variety. (2) The high-beam and cruise-control indicator lights on the dash which are far too bright and tend to blind the rider at night. In my opinion this is an unforgivable design error that is made even more egregious by the fact that the overly bright indicators also reflect off the back of the windscreen directly into the rider's line of vision. This makes the high beam and cruise control essentially unusable after dark. I am planning to mount some shaded film on the instrument panel to cut down on this glare, and hopefully will find a way to stick a little piece of plastic on there too to serve as a shading cowl to prevent light from traveling vertically from the indicators to reflect off the screen. My dealer mechanic tells me he sees a lot of K1200LTs with shading tape on the instrument panel. It appears that BMW engineers do not test their designs at night.
Rear brake squeaking is something a lot of K1200LT owners seem to complain about. Mine did it too; sounded like a flock of angry geese whenever the rear brake was applied. My mechanic removed the pads and roughed them a bit because they were showing some glazing. This seems to have cured the problem, at least for now. Apparently the rear brake on the K1200 incorporates a floating disk. According to my mechanic, the noise may be coming from lateral movement of the disk itself on the mounting studs as a result of irregular gripping by the pads when they become glazed. Seems like there ought to be a way to lube those studs to prevent the noise, if that is what causes it.
---
That's my Katana 600, "Sweet Suzi," looking out over Mono Lake. I called her Suzi, for Suzuki, and Sweet because the four-cylinder 600 cc engine was smooth and that little 480 lb bike handled so well -- she was comfortable and so sweet to ride! Not as fast as or as roomy as the Concours, but great for short and medium range one-up touring.

Suzi was perfect until she took a couple of hits in 1998 when I let my girlfriend use her as a practice bike. (She said she wouldn't drop Suzi, but I knew she would.) Replacing the mirrors and a well-place bit of red plastic tape on the fairing kept Suzi intact. I sold her in 2001 to a frustrated I-680-corridor commuter. (The bike, not the girlfriend. Girlfriend was already long gone; she dumped Suzi, then she dumped me!)
---
| | |
| --- | --- |
| | That's my 1982 Gold Wing 1100 on the Angeles Crest Highway. The "Crest" is a great ride. I've done it several times. I used to go that way when I visited my friend and client Bambi in Wrightwood, California, then headed down to LA to visit my son at UCLA. (Now, since Justin moved to New York City, I have less reason to head for LA.) The Angeles Crest Highway (Rte. 2) winds for 30 miles from Wrightwood along the crest of the San Gabriel Mountains, then drops rapidly down through La Cañada into Glendale as it approaches LA. Like many such roads near highly populated areas, the pleasure is tempered by dangers posed by novices overriding their skills and sportbikers pushing their limits, especially on weekends. |
---
I like to ride all around California, up and down the coast and through the Sierras. Here I am in 1994 relaxing during a riding break at Sea Ranch.

---

The biggest motorcycle I could rent on Santorini Island, Greece, when my ex-girlfriend Leslie (not the one who dropped the Suzuki) and I went there in 1994:




By Mount Lassen in September, 1994, just before I almost got caught in the snowstorm. I was on my way back to San Francisco from Boise, Idaho, where I visited my friends Karen and Andy.

Sometimes I rent motorcycles when I travel. That's one I rented in Munich in 1993.

>
---
---