1994 Harley-Davidson Dyna Convertible (FXDS-C)
I purchased this bike new from Bob Dron H-D in Oakland, CA, in March 1994. I rode it across America several times in the years from 1996 to 2004 ( 1996, 1999, 2004 ). During its lifetime, it received a number of additions and upgrades including halogen road lights mounted on the crash bar with custom brackets produced by a machinist friend to my specification, additional tail/stoplights on the rear for visibility, a Harley-Davidson aftermarket pillow-pad saddle to improve comfort, additional road pegs high on the crash bar for a third riding position on long trips, Stage-1 intake and high-performance cam, Vance & Hines Propipe 2-into-1 exhaust, and a taller sissy bar and pad. With the pad removed the tall sissy bar was useful on solo trips for tying on duffles, sleeping bag, tent, etc., both in front on the passenger pad and in back on the luggage rack. Eventually the original nylon and leather Convertible saddle bags were replaced with lockable LeatherLyke bags. The LeatherLykes were also waterproof, a big improvement over the water permeable nylon bags that resulted in many instances of soaked apparel and other items after riding in the rain.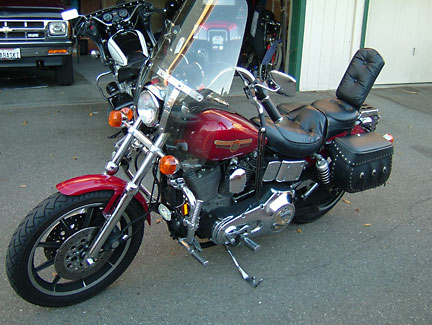 This bike was dropped many times, but always protected by the crash bar which I had installed at time of purchase, so there was essentially no damage other than almost imperceptible abrasion to the chrome on the bar. That crash bar was an incredibly good investment. The first drop occurred when the bike was very new in Summer, 1994, on my return to San Francisco after a ride to Boise, Idaho, to visit friends. Just after passing Lassen National Park in Northern California, I pulled off on a gravel shoulder to relieve myself and misjudged the firmness of the stones. As I came to a stop, the front wheel slid out and down it went on the left side. I stood looking at my shiny new bike sitting in a pile of large stones and thought, I'm sure there must be damage to the tank and perhaps the windscreen. But I managed to pick it up, and there was none other than a tiny scratch on the crash bar. Subsequently, the bike got dropped on the steep street where my house was located in the Oakland, CA, hills and again in my gravel driveway after moving to New Mexico, each time with similar results.
The only major damage to the bike occurred as a result of a minor accident in San Francisco on my way to work one morning in March, 2006, just before I left on my first cross-county motorcycle trip. After being stopped at a red light on Jackson Street in the Financial District, I observed a compact Chrysler car approach the intersection on Canfield and come to a complete stop for the red. As I started up on the green, I turned my head to the right for a head-check on the car next to me. When I looked back ahead, the woman in the Chrysler product had totally inexplicably accelerated through the red directly into my path. I grabbed for the brake, but before I could apply it my bike rammed into her right rear fender going probably only 10-15 MPH. The result was that my front fork over-rotated to the right, denting the gas tank on the bike, and the bike went down on its left side. I was wearing a leather jacket, gloves, and a half helmet, and suffered a slightly sprained left wrist and minor bruise to my left elbow. There was quite a bit of abrasion on my glove, jacket, and helmet where I hit the pavement. But I managed to get up and pick up the bike and roll it to the curb. The driver of the car stopped and provided her insurance information. She was apologetic, said she had no idea what happened or why she had stepped on the gas and run the red light, but seemed mainly concerned about the dent in her right rear fender, which she said had just been repaired as the result of another accident. A pedestrian who had seen the collision also stopped and provided his contact information in case I needed a witness. Afterwards, I rode the Harley back up Telegraph Hill to my apartment, parked it in the garage, took out my Kawasaki Concours, and rode that other motorcycle across the Bay Bridge to work. I was not of a mind to be intimidated from riding by a minor accident. In reality, however, I was very lucky that the lady had hit the gas when she did and not a second or two later, otherwise I might have been in front of her car when she accelerated into the intersection and could have been run over. This accident also taught me a valuable lesson: Never take your attention off the direct path of your motorcycle, even for a second, especially in a situation with other vehicles present. Watch the other vehicles like a hawk for any unusual sign of movement and be ready to react defensively. Sometimes the most unexpected, seemingly irrational occurrence can be the most dangerous.
AAA auto insurance paid about $4000 to Bob Dron Harley Davidson for repairs to the bike, and it was as good as new. They also insisted on paying me $500 for my pain and suffering in exchange for my signature on a waiver. It occurred to me later that if I had been of a mercenary mind, I might have bargained for much more. The bike was repaired in time for my motorcycle trip across country in May.
My first motorcycle ride across America was sort of a romantic notion I got in my head a year or so after buying this Harley-Davidson. I had originally planned to spend about one month on the road. I figured I would have accumulated about four weeks of vacation time I could use for that by Summer, 1996. Coincidentally, however, I left my last captive job (a.k.a. W2 employment) not long before my scheduled departure in May that year, and with a modest but not ungenerous severance package. Haven't had a real job since. And suddenly I was free, free to spend as much time on the road as I chose. So I pretty much just wandered, from San Francisco to Madison, Wisconsin, where I attended my daughter's college graduation, to Michigan to visit my parents, on to Boston, then by chance to Maine, then down the East Coast to Georgia, New Orleans, and back west to San Diego before returning home. Six weeks on the road, and I saw a lot of America. The bike behaved well on that trip, with one minor exception. Somewhere in Wisconsin, after leaving Madison, the air cleaner came loose from the right side of the engine. The bike had been modified a year or so previous by addition of a Screaming Eagle Stage 1 intake, a high-performance cam, Harley-Davidson aftermarket mufflers, and the carburetor re-jetted for performance with those modifications. It made an amazing difference in the amount of power available from the engine. When the air cleaner came loose, I stopped in a little park, took out my tool kit, and investigated the problem. It was the backing plate that was part of the Screaming Eagle intake kit. The plate was held together by rivets, and a couple of the rivets had pulled loose. I secured the air cleaner by wrapping it with a couple of cable ties and rode on. (Advice for riders: Always carry a package of cable ties. Also, duct tape. Both essential items for emergency repairs.) The bike was, by that time, just out of warrantee. At the next opportunity, I stopped at a Harley-Davidson dealer to see if I could purchase a replacement backing plate, but was told that part was not available separately, only as part of the Screaming Eagle kit at a cost of a couple hundred dollars. Also, they didn't have one in stock. I made a judgment call at that point, decided I wasn't going to pay that much for another potentially defective plate and that I could likely complete my trip with the cleaner held by cable ties with no adverse consequences. After I returned home to San Francisco, I removed the defective backing plate, drilled out all the rivets and replaced them with machine screws, then reassembled the air cleaner and intake assembly. Voila! Better than new, and no further problems as long as I owned the bike.
A similar difficulty occurred a few years later after I had the exhaust system replaced with a Vance & Hines 2-into-1 Propipe by an independent motorcycle shop in Pleasanton, CA. Riding on another trip, in 2004, I had been through Southern Utah and was headed down Interstate 15 to Las Vegas, NV. Just before reaching Las Vegas, however, I started to hear a load rattling that sounded like it was coming from the engine at certain speeds. It was late by the time I found a cheap motel room, then walked across the Las Vegas Strip to the Mandalay Bay hotel and had dinner at the House of Blues there. The next morning, when I started the bike, the problem seemed to have gone away. No rattling. I packed up and headed north out of town toward Route 95 north. But after a couple miles, the odd rattle started again. I stopped for gas, and checked all the parts of the bike carefully. That's when I discovered that one of the mounting bolts for the Propipe had fallen out, and the other was loose. That was the cause of the rattle, but it apparently only happened when the engine was hot. I stopped a way down the street at an Auto Zone store and managed to find a bolt that would fit to replace the lost one. Once the bolt was restored to the Propipe mount and both bolts tightened, the rattle went away. I didn't think any more about it until a couple months later after I had returned home to California. I was riding the bike on the freeway, headed from Oakland to Walnut Creek, when suddenly there was a strange clatter. I pulled off at the next exit and discovered that both mounting bolts for the Propipe had fallen out and the muffler was dragging on the pavement. I reached into my saddle bag and found a bungee cord, hooked that through the mounting hole on the Propipe muffler and strapped the other end around my sissy bar and luggage rack to hold the muffler off the ground, then carefully rode via surface streets, not the freeway, to the shop in Pleasanton that had installed the Propipe. The shop installed new mounting bolts, this time with adequate coating of red Locktite. No problem after that. (More advice for riders: Harleys vibrate a lot. 1. Always use Locktite on important bolts and screws. 2. Always carry a bungee cord or two, or nylon luggage straps, just in case. Probably good advice not just for Harleys.)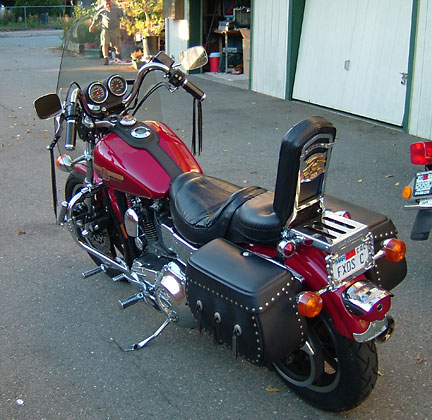 Another adverse occurrence of note happened when this bike had about 37,000 miles on the odometer. I was riding about 35 miles per hour on a suburban highway in Danville, CA, a couple of days before I was scheduled to ride the bike to Southern California to participate in the Love Ride sponsored by Glendale Harley Davidson. Suddenly I heard a scraping noise. I pulled to the side of the road, got off the bike, and looked underneath to see if I had perhaps picked up a branch or some other unnoticed object from the road. Didn't see anything, so I got back on and started riding. But the scraping noises got worse, then the engine started to cough, and I barely made it back to my rented house about three miles away. Next morning I rode the bike to McGuire Harley Davidson in Danville to see if they could discover the problem. What had happened was, one of the needle bearings in my valve lifters had failed, releasing small bearing fragments into the engine, which had then proceeded to chew up various parts including the innards of the oil pump. I rode the Kawasaki Concours to Southern California that year for the Love Ride. Meanwhile, about a month and $3500 later, I got my bike back from McGuire with an overhauled, better than new, 1340 EVO engine. It had a more aggressive cam and high performance valve springs, ran better and put out more power than before the mishap, although the engine had already been modified with Stage 1 intake and a Harley-Davidson aftermarket cam. The service manager told me that broken needle bearings was a common problem with Harley EVO engines, and recommended replacing the needle bearings every 25,000 miles, a simple inexpensive proceedure, as a preventive measure.
Here it is once in New Mexico when I got the idea to roll it out in the snowy driveway for a unique picture that I might be able to use when advertising it for sale. It was my first experience with a motorcycle in snow. I had a hell of a time rolling it back into my garage. No traction! Kinda pretty, though.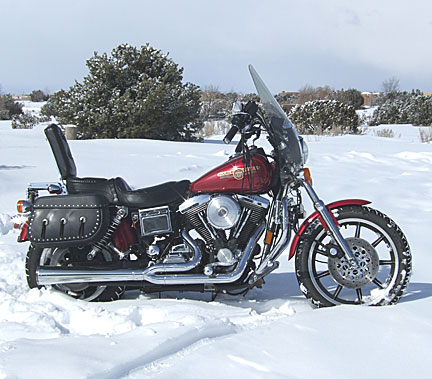 Eileen took this picture of me on the bike with the for-sale sign on the windshield one day when we had ridden it over to Galisteo, NM, about ten miles from home -- for the art gallery tour, I think.
The bike was finally sold in June, 2012, with 58,500 miles on the odometer.