2014 Harley-Davidson Switchback (FLD) for Sale
Excellent Condition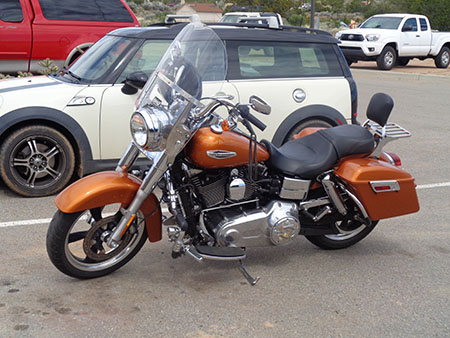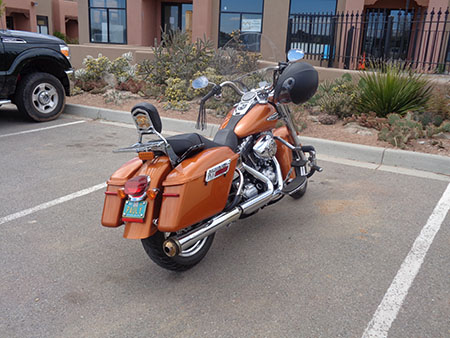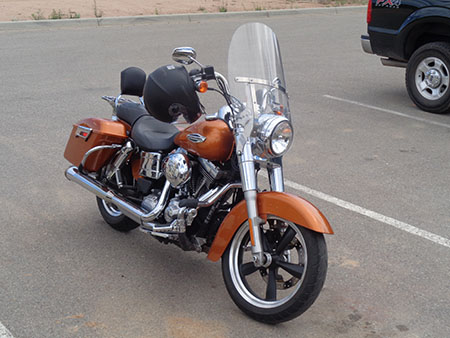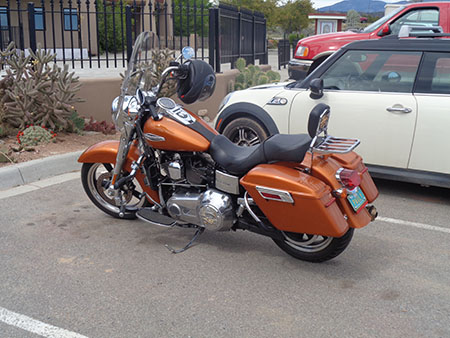 $13,300.
Approx. 12,000 miles. (I'm still riding it occasionally.) 103 cui. H-D stage-1 intake and exhaust. Screaming Eagle tune kit, dyno tuned by Santa Fe Harley Davidson. New Dunlop tires. Other extras.
Location:
Eldorado at Santa Fe, New Mexico
Details:
Never down. 720 lb "Mini-Bagger" with detachable windscreen and luggage (faster and easier to handle than heavier touring models). 103 Twin Cam. Excellent condition. Serviced by Santa Fe H-D at 10K miles. Brand new Dunlop American Elite tires F&R installed at 11,800 mi. Stage 1 intake and Screaming Eagle Nightstick muffler with SuperTrapp end cap and glass-packed core (mellow but not too loud). Screaming Eagle EFI Super Tuner kit, dyno tuned by Santa Fe H-D (graphs available). H-D oil cooler with custom brushless DC fans. Mobil 1 synthetic oil in engine. Red Line synthetic lubricants in transmission and primary case. H-D security system with keyless ignition. H-D locking gas cap. H-D mustache highway bar with chrome road pegs and LED road lights. H-D chrome saddlebag protectors. Detachable sissy bar with pad, rack, and security lock. Rifle +4" windscreen. Custom muffler mount for reduced vibration. LED headlight bulb. Bright-Ass programmable LED tail light with flashing stop light. Additional Knight-Riderz flashing LED stop lights. Amber LED flashing deceleration light with Gear-Brake inertial switch. LED bulbs in all signal lamps. H-D chrome passenger pegs. Chrome electrical panel and battery covers. Chrome/gold 103 Live 2 Ride air-cleaner emblem and derby cover. H-D USA medallion on sissy bar. Approx. $22,500 invested (+ time). Asking price is current KBB bluebook value in NM for stock 2014 FLD without extras.
Reason:
I traded my 2012 H-D Ultra for a nice used 2012 Heritage Softail at the end of 2015, and in 2016 I purchased a brand new BMW R1200GS WC. So I now have three motorcycles crowding my little garage/shop, and I really can't ride them all as much as I would like. Would like to get down to two bikes.